If you're wondering what to do in Malta for a week, you've come to the right place. Malta has been my home for more than ten years, and I love it! I am familiar with every corner of the Maltese archipelago and cannot wait to show you the most beautiful places Malta has to offer. I created a 7-day itinerary based on my experience exploring Malta and included all the information you need for an unforgettable week.
The Maltese archipelago is located in the Mediterranean Sea, south of Sicily. It consists of three main islands: Malta, Gozo, and Comino. Despite its small size, the island nation features a variety of attractions, including ancient temples, medieval towns, hidden caves, and picturesque beaches. Malta is the ideal destination for all types of travellers thanks to its warm climate, delicious cuisine, and friendly locals.
So, let's start your journey and see what Malta has to offer.  
What to do in Malta for a Week: A Map
To make it easier for you, I have created a map that highlights all the locations and activities to see each day. Sites are hyperlinked with Google Maps links to make it easy to find them.
How to Get around Malta?
You have a lot of choices. Lots of people like taking the bus – it's easy on the wallet, although they sometimes run behind schedule. The hop-on-hop-off buses are a solid choice. They'll drop you off at all the big sights, and you can take your time exploring before hopping back on to head to the next spot. Grab your tickets here.
Just remember, while buses are convenient for the major attractions, they might not get you to the tucked-away spots Malta has to offer. For that, hire a car – but remember, we keep to the left on our roads! For the best price and choice, I recommend Discover Cars.

Day 1 of Malta's 7-day Itinerary: Exploring Valletta, Malta's Capital City
On the first day in Malta, I suggest exploring Valletta, the UNESCO World Heritage Site. It is a fortified city with a variety of historical monuments, museums and art galleries.
Triton's Fountain, just outside the Valletta City Gate, is the perfect place to start your tour. It's made of three bronze tritons and a large basin. It's beautiful at night and day.
Next, we'll stroll down Republic Street, lined with shops, cafes, and restaurants. From there, visit St. John's Co-Cathedral, an impressive example of Baroque architecture with intricate carvings and frescoes. There are eight magnificent chapels in this church, each decorated with a beautiful piece of art. The church was built in the 16th century and has been a place of worship ever since. There's also a famous Caravaggio painting "Beheading of Saint John the Baptist".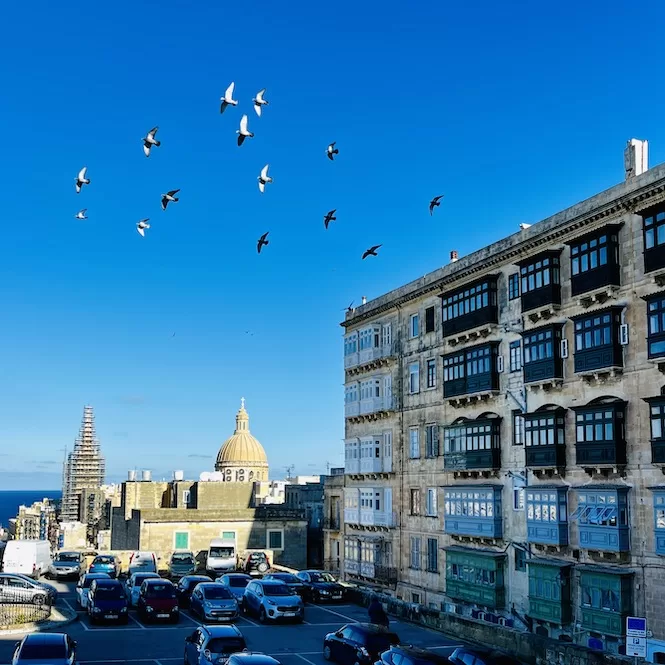 Valletta's Upper Barakka Gardens are next on the list of must-sees. Located atop Valletta's bastions, they offer stunning views of the Three Cities. Built by the Knights of St John in the 16th century, the Upper Barrakka Gardens were used as private gardens by the Grand Master.
If you're interested in history, you'll also enjoy other attractions that are close to the Upper Barrakka Gardens:
The Saluting Battery: The XVI century saluting battery fired a signal shot at noon and announced the opening and closing of the city gates at dawn and dusk. It also welcomed ships and special guests. Salute shoots happen every day at noon and 4 pm.
War HQ Tunnels: The tunnels under the Saluting Battery were used as secret war headquarters from 1940 during the Second World War. Later they were used by NATO to track Soviet submarines in the Mediterranean during the Cold War.
The Lascaris War Rooms: During the Second World War, these rooms also served as British War HQ. This ultra-secret complex was used by the military to plan and manage Malta's defences, as well as coordinate other Mediterranean operations. More than a thousand people worked here during the war.
If you would like to know more about Valletta, check out my post which includes a list of what to do and a detailed map of all the tourist attractions.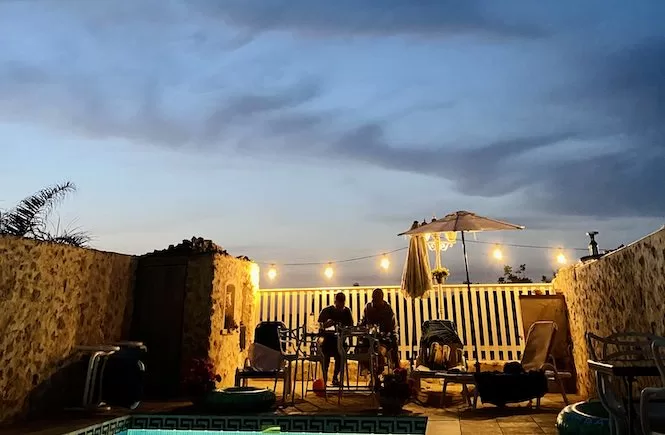 Day 2: The Ancient City of Mdina and Rabat
On the second day of your trip, let's explore the ancient city of Mdina, also known as the "Silent City." This fortified city, which was once the capital of Malta, is a treasure trove of narrow streets, medieval architecture, and captivating history. As you explore it, it's easy to feel like you've stepped back in time.
Your first stop in Mdina is the impressive Mdina Gate, a Baroque-style entrance that leads us into the city's winding streets. From there, visit St. Paul's Cathedral, a beautiful 17th-century church.
Afterwards, walk along the city's ancient walls, offering stunning views of the surrounding countryside and the distant sea. Be sure to visit Bastion Square for an unforgettable island panorama.
Just outside Mdina, there is Rabat, which is home to St. Paul's Catacombs. St. Paul's Catacombs are a network of underground tombs dating back to the Roman period. As you explore these ancient burial sites, you'll learn about Malta's fascinating history and religious practices.
Day 3: The Blue Grotto, Meghalitic Temples and Sunset on Dingli Cliffs
You can continue your holiday adventure by visiting the Blue Grotto on the southwest coast. The Blue Grotto is a series of natural caves carved into limestone cliffs. During the day, the sunlight reflects on the deep waters of the caves, giving them their stunning blue colour. Underwater flora and fauna also create beautiful colours, such as orange, green, red and yellow. You can explore the Blue Grotto caves on a boat trip. Boats are available in the bay.
Combine Blue Grotto with a visit to the Hagar Qim Temples and the Mnajdra Temples. Hagar Qim Temples are among the world's oldest freestanding structures. These ancient limestone temples date back to 3600 BC and provide an insight into Malta's prehistoric past. Visit the ruins and discover the rituals performed at these sacred locations by the mysterious temple builders.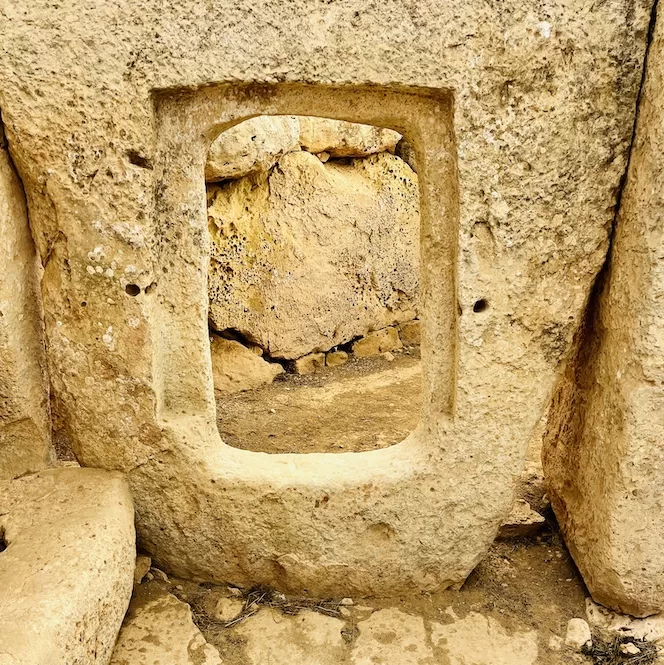 You can visit Mnajdra temples nearby using the same ticket from the Hagar Qim Park Visitor Center. In the structure are three temples: an upper, middle, and lower temple. At the vernal and autumnal equinoxes, sunlight illuminates the central axis. At the solstices, light shines on the edges of the megaliths. As a result, the temples were thought to have been used as observatories.
It is very scenic to visit the temples since they are located on a hilltop with a wonderful view of the Mediterranean Sea and uninhabited Filfla island. You can also hike to Ghar Lapsi, a natural swimming pool less than 3 kilometres away. Check out my hike guide.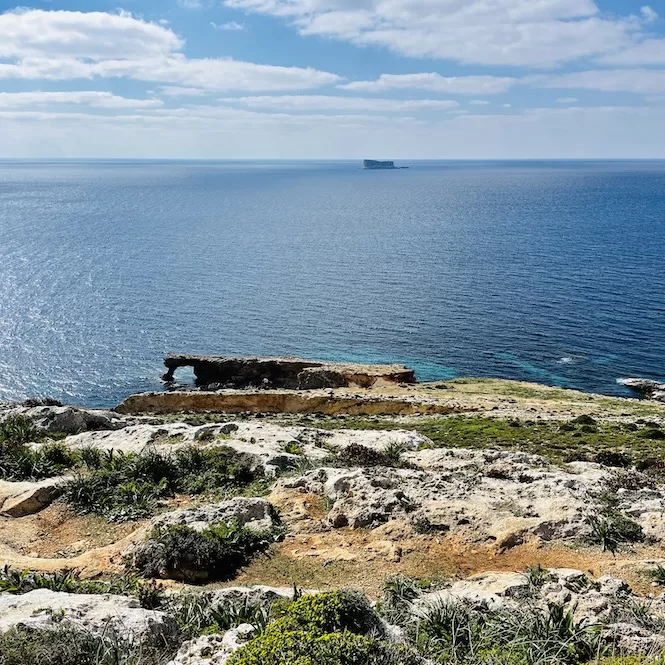 A sunset on the Dingli Cliffs will round out this day's activities. At 253 meters above sea level, the Dingli Cliffs are Malta's highest point and provide some of the best views of the Mediterranean Sea. The views from the Dingli Cliffs are incredible, and visitors can see miles in all directions from here. It's a fantastic way to spend an evening in Malta watching the sunset over the lush terraced fields, Filfla and the Mediterranean Sea.
Day 4 of Malta's 7-day Itinerary: A Day Trip to Gozo Island
The next day of the 7-day itinerary is a day trip to Gozo, Malta's sister island. It is known for its tranquil atmosphere, lush landscapes, and historical sites. It is a short ferry ride from the main island.
Listed below are the main sites, but if you are interested in exploring more, please check out my complete Gozo guide.
You should begin your tour by visiting the UNESCO World Heritage site Ggantija Temples. These are prehistoric megalithic structures that predate Egyptian pyramids. The name Ggantija Temples comes from the Maltese word for giant, as they were believed to have been constructed by giants. This site is also a UNESCO World Heritage Site. Discover a full list of Malta's UNESCO sites here.
Following the temple tour, visit Gozo's capital Victoria, also called Rabat. Explore the Citadel, a medieval fortress that offers panoramic views of the island. This area has been inhabited since the Bronze Age.
Visit Dwejra Bay on the west coast of Gozo if you love nature. Dwejra is a popular tourist destination and offers stunning natural beauty. The Blue Hole, the Inland Sea, the Fungus Rock, and the Azure Window are just some of the things you can see here. Check out the guide to Dwejra Bay for details on all these places.
It is worth visiting the salt pans in Xwejni Bay, which are historic and culturally significant. Salt pans are shallow pools carved into rocks used to harvest salt for centuries. From above, these salt pans look like a giant checkerboard with each pool filled with seawater. For more than 350 years, they have dotted the coastline along a three-kilometre stretch.
Let's end your day on Gozo by relaxing on one of the beaches. Ramla Bay is a popular sandy beach with crystal-clear waters. If you prefer a more remote spot, check out my guide to Gozo's secret beaches.
Day 5: Beaches and Water Sports in Malta
During the fifth day in Malta, we have some time to enjoy the island's beautiful beaches and engage in some exciting water sports. Malta's crystal-clear waters and diverse marine life make it a dream destination for water enthusiasts.
Ghadira, Golden Bay and Ghajn Tuffieha are the most famous sandy beaches, perfect for swimming and sunbathing. This place is ideal for families, and the nearby water sports centre offers activities such as kayaking and paddle boarding. Ghadira and Golden Bay offer jet skiing, parasailing, and banana boat rides.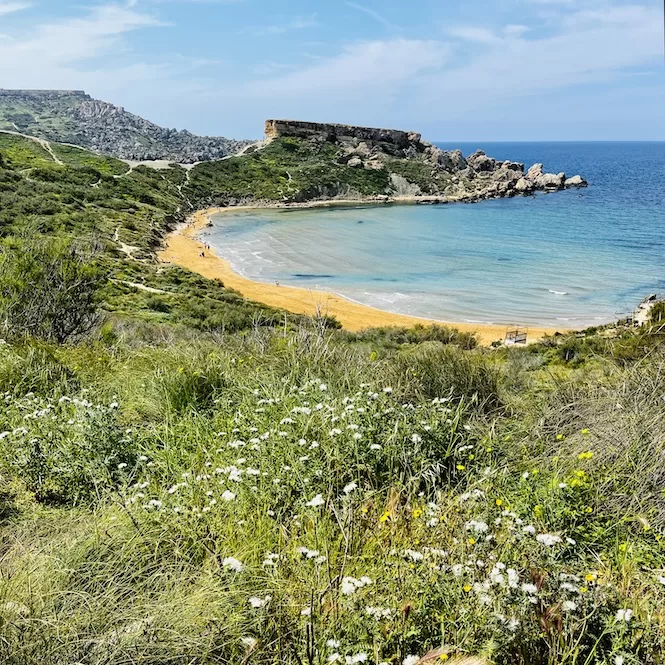 In Malta, there are several dive sites suitable for beginners and experienced divers. If you are interested in diving, check out my list of the best dive sites and tips for beginners. The clear waters offer excellent visibility, and you'll be able to explore underwater caves, shipwrecks, and colourful reefs.
Snorkellers will also enjoy Malta's waters since there are plenty of shallow diving spots. Malta's warm climate makes it the perfect place for underwater adventures. Here are my recommendations for the best snorkelling spots.
Seeking an alternative to beach days and water sports? Why not take a boat trip along Malta's beautiful coastline? Take in panoramic views, discover hidden bays, and experience Malta from a fresh perspective. You can choose between group tours and private charters. Check out my guide on boat trips in Malta.
Day 6: Visit the Three Cities
Three fortified cities – Vittoriosa, Senglea, and Cospicua – are next on the itinerary. There is a lot to see in Three Cities, a must-see destination that is rich in history and culture. It's old but lively so that you don't feel like you're walking through a museum.
Boats from Valletta are the preferred way to travel to the Three Cities. You will get breathtaking harbour views. Return ferry tickets are 2.80 euros per person.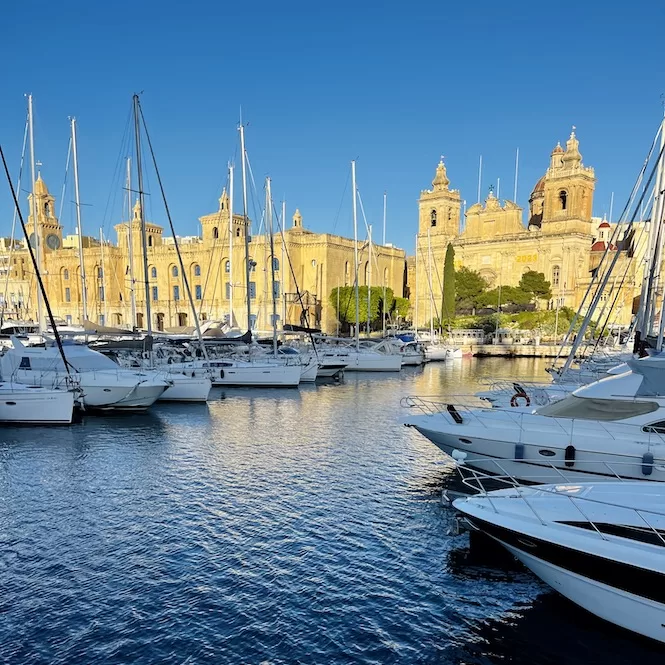 The following are only some of the key sights, but I have written a complete guide to the Three Cities.
Start your tour in Senglea, also known as Isla. Take a stroll along the Senglea Waterfront and visit the gorgeous Gardjola Gardens, which offer stunning views of Grand Harbour.
Next, visit Vittoriosa, otherwise known as Birgu. This city played a significant role during the Great Siege of Malta in 1565. Also, visit Fort St. Angelo, a key defensive structure during the siege. It is also worth seeing the Inquisitor's Palace, the former residence of the Knights of Saint John's Grand Inquisitor.
After that, you can visit Cospicua, also known as Bormla, the largest of the Three Cities. Here, you will see the city's impressive fortifications.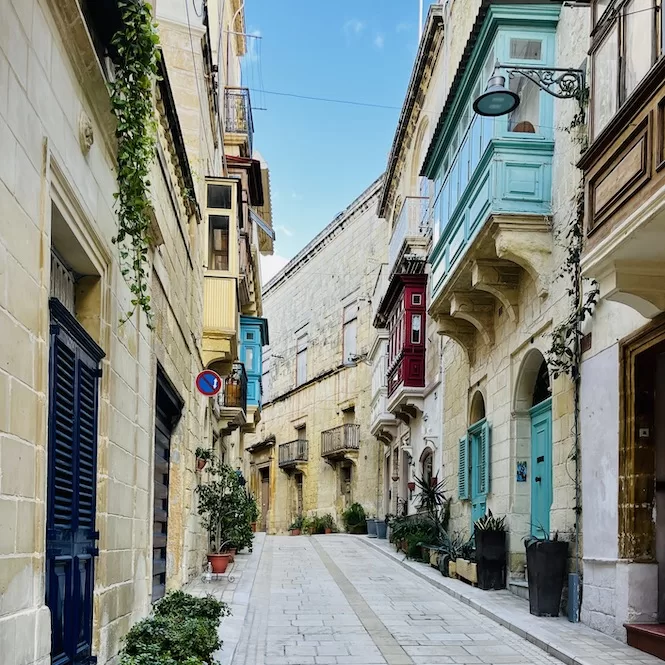 The Last Day of Malta's 7-day Itinerary: Explore Comino and Blue Lagoon
On the last day of your Malta stay, visit the small Maltese island of Comino. Comino Island offers beautiful beaches with clear waters and amazing views. The island was once used as a refuge for pirates and a hunting ground by the Knights of St John.
You will need a boat to reach Comino. You can use a shuttle boat, book a day tour (top recommendations here), or book a private boat charter. See my guide to boat trips in Malta.
You'll be amazed at Comino's Blue Lagoon, a sheltered cove with turquoise waters. The Blue Lagoon is a popular spot for swimming and relaxing, with its shallow and calm waters. So, take one last swim in the Blue Lagoon before saying goodbye to Malta.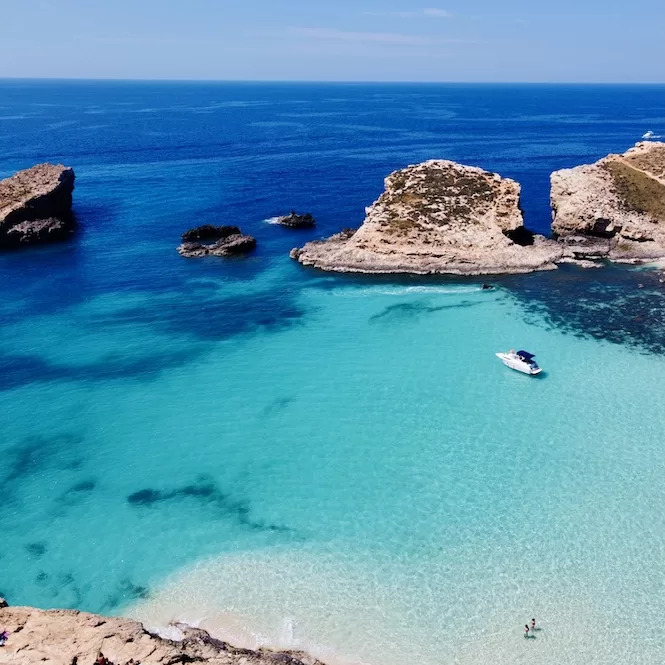 In addition to the Blue Lagoon, Comino is home to walking trails leading to secluded beaches and coves. You can also visit Saint Mary's Tower, Santa Maria Cave, and the Crystal Lagoon.
Tips and Tricks for a Smooth Malta Vacation
Here are some helpful tips to make the most of your Malta vacation:
Plan: To avoid missing out on your must-see attractions, make your itinerary in advance, and book your tickets and tours ahead of time.

Rent a car: The best way to explore Malta at your own pace is by renting a car. Just be aware that driving is on the left side of the road, and parking can be difficult. Check out my guide to renting a car and driving tips.

Stay hydrated: Drink plenty of water during summer when Malta gets hot and humid. Wear a hat, sunglasses, and sunscreen.

Try the local cuisine: Explore the local culture and try something new. Try pastizzi, a flaky pastry filled with cheese or peas, rabbit stew or a Maltese tuna sandwich called Ftira biz-Zejt.

Respect the environment: Respect Malta's natural beauty and avoid littering or damaging it.

Travelling solo: When planning your solo trip to Malta, look up events and join Facebook groups to easily meet new friends and have fun.
Hopefully, now you know what to do in Malta for a week. This ultimate 7-day guide takes you to the best of all that Malta has to offer, from Valletta's historic monuments to Gozo's tranquil landscapes to Comino's idyllic Blue Lagoon. With just a bit of planning, you can create an unforgettable trip that you'll remember forever.
Check out my four-day itinerary suggestions if you don't have 7 days to spend.